In honor of Hispanic Heritage Month, DHR is recognizing and celebrating the achievements and contributions of Hispanic and Latinx champions who have inspired others to achieve success.
We sat down with Monica Macias, Senior Associate, DHR, and Oscar Rodriguez, Senior Associate, Jobplex, to learn about their professional and personal insights.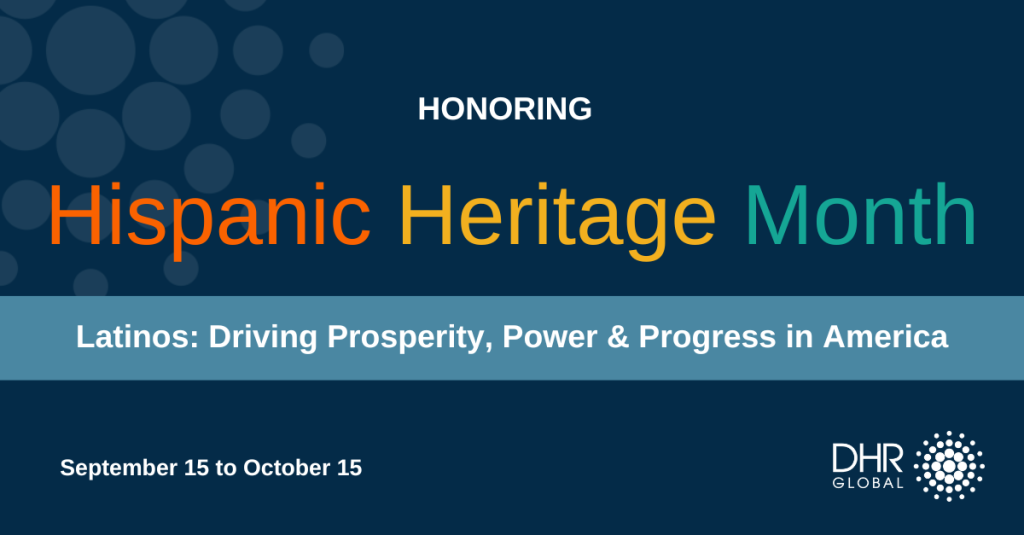 Q: What does Hispanic Heritage Month mean to you, and how has your heritage shaped who you are today?
Monica: It means appreciating the past, being authentic, truly representing who you are, and sharing your history. Being Mexican and having the opportunity to live abroad and work in multicultural environments has opened my perceptions. I've learned to always share my story and understand others as they are. Learning about their backgrounds has made me create solid connections by caring and understanding, always with a lens that all are learning experiences to be kind and continue growing.
Oscar: To me, Hispanic Heritage Month is a time to reflect on our roots, where we come from, and our past. This also means being appreciative of our contribution to the culture of the United States as well as celebrating all the positive aspects of living in a multicultural country. My Hispanic heritage has provided me with the opportunity to broaden my vision of the world. I am open to understanding different points of view and perspectives, as well as developing cultural awareness.
Q: What advice (personal or professional) would you give others of Hispanic/Latinx heritage?
Monica: To embrace your culture and share your journey with joy and success. Understand our past from a learning, kindness, and empathetic perspective. When I have an opportunity to share, I'm a promoter of our Mexican culture, traditions, country, and history.
Oscar: Embrace your cultural background and past, and share a little bit of who you are with others. Being confident of your past will help you to create meaningful relationships.
Q: How do you plan on celebrating this year's Hispanic Heritage Month?
Monica: We recently celebrated Independence Day with some friends by dressing in red, green, and white. For dinner, we had Chiles en Nogada, which is a typical plate in September. It is very traditional: the recipe is from the state of Puebla, Puebla, and was a dinner that was served to the Mexican Emperor in the 1820s to celebrate the independence. I'm also preparing for November 1st, when we have our Dia de Muertos. My family and I have a tradition of creating an Altar de Muertos for our family members who are no longer with us.
Oscar: I will most likely share a meal with a family who recently moved to the area. I would like to prepare a traditional dish from Costa Rica to share with them.