At DHR, we are globally engaged to stay apprised of Board & CEO agendas. The world is quickly changing, and with it a tectonic shift in the focus toward environmental and social topics occurred during the 2021 proxy season. While companies have been analyzing ESG for years, for many stakeholders the past year served as a catalyst to prioritize, activate and integrate ESG risk management into the organization and strategic plan. Covid 19-related health concerns, civil unrest due to social injustice, economic inequalities and climate change all amplified the importance of a well-run ESG program.
Opportunities for Enhancing ESG Oversight
Shift from a compliance to a strategic mindset. Moving from a compliance to a strategic mindset will require deepening the board's ESG knowledge. Bringing external insights into the boardroom through board education programs can help the board understand ESG-related trends that may affect the company's business, including market driven and regulatory developments, evolving stakeholder expectations and megatrends.
Know the ESG factors that matter most to the business. Having management conduct, and the board oversee, a sustainability materiality assessment involves engaging with the company's most important stakeholders to identify and prioritize ESG topics. Technology, climate, supply chain, cybersecurity, and data governance all present an opportunity for either competitive advantage or failure.
Consider expanding key board committee responsibilities to include ESG. Expanding the purview of key committees aligns environmental and social oversight responsibilities with the core work of those committees and may better integrate related matters into overall governance. For example, the nominating and governance committee can focus on addressing the expectations of stakeholders and integrate material issues into the full board, committee responsibilities and areas of expertise; the compensation committee can oversee ESG alignment to executive; the audit committee can oversee ESG disclosure reporting.
Oversee how the company is telling its ESG story. While different company communications will target different audiences and have different objectives, all communications should articulate a clear, consistent, long-term strategy for value creation. ESG disclosures should tie into the narrative coming from the rest of the company's external reporting. The board can play an important role in overseeing the consistency and clarity of the company's ESG narrative.
"A growing number of companies are embracing ESG matters as a strategic business imperative. They recognize ESG's potential to build long-term competitive advantage, enhance resiliency to accelerating sustainability risks, and attract socially and environmentally conscious investors, talent and customers."
Get the Facts
Against a backdrop of pandemic- and climate-related concerns, ESG emerged as a top concern for today's stakeholders – and boards are being held accountable.
"Does your company report ESG information externally?"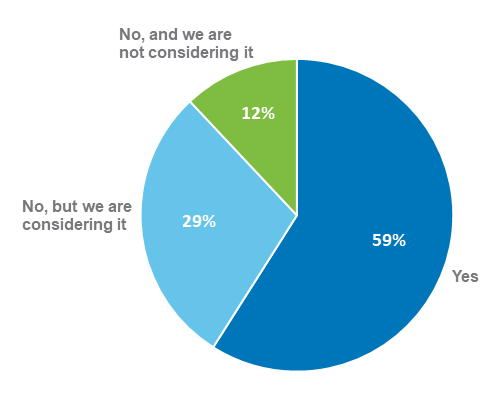 "Which channel does your company use for ESG reporting?"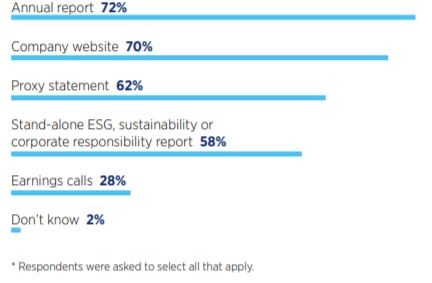 Chief Takeaways
It would be difficult to overstate the level of stakeholder interest in company ESG practices and performance.
It is paramount that companies develop robust governance policies regarding reporting ESG information.
Now is a good time to continue to deepen your board's knowledge and enhance ESG oversight to help guide your company through these dynamic, disruptive times.
Supporting Your Board
At DHR, we stay on top of key trends impacting our clients and their businesses. We strive to keep our clients well informed, connected, and prepared for a future of value creation. Contact us if we can provide additional insight or service to meet your needs
Excerpts in this article from "Four opportunities for enhancing ESG oversight," June 2021, By Corporate Board Member & EY
Data taken from an EY 2021 survey of 400 corporate board directors