Join DHR Global and a select group of automotive board members and CEOs for an exclusive roundtable on 'Futureproofing Your Board: Critical Topics for Automotive & Future Mobility.'
This event will feature a keynote message from Dan Ninivaggi, Executive Chairman of Lordstown Motors, Chairman of the Board at Garrett Motion, and Ex-CEO of Icahn Enterprises L.P., followed by an executive roundtable discussion with peers
Automotive Boards today are facing unprecedented challenges driven by massive shifts in technology, market dynamics, and consumer preferences. Dan will share a future outlook with unique insider perspectives gained from his broad automotive background, capital markets expertise, and investment proficiency.
Designed exclusively for Automotive CEOs and Board Members, don't miss this unique opportunity for deeper discussion of critical topics with like-minded industry leaders.
This event is hosted by Patricia Watters, Managing Partner, Global Automotive & Future Mobility Practice; Mike Magsig and Heather Smith, from DHR Global's Board & CEO Practice; and Lisa Walker, Managing Partner, Global Industrial Practice.
Our Featured Speaker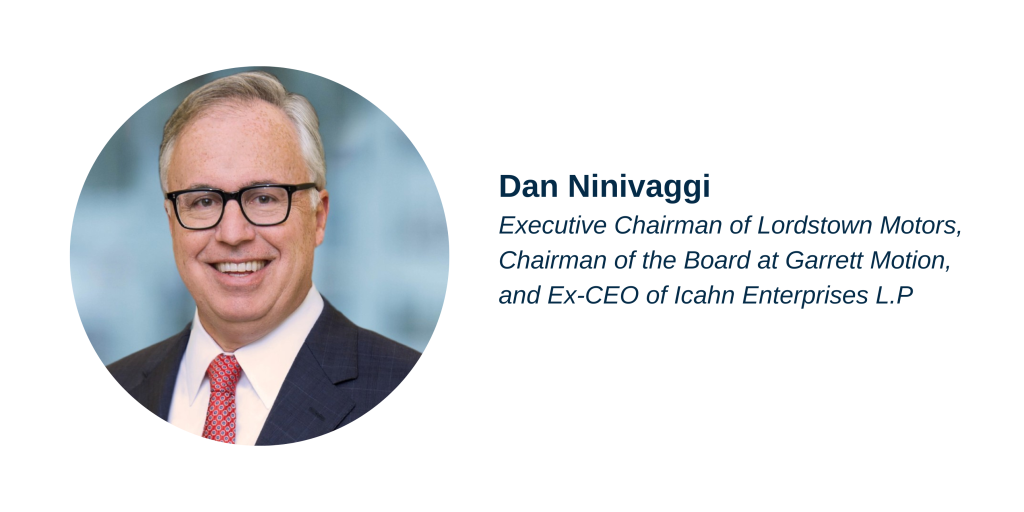 Meet Your Hosts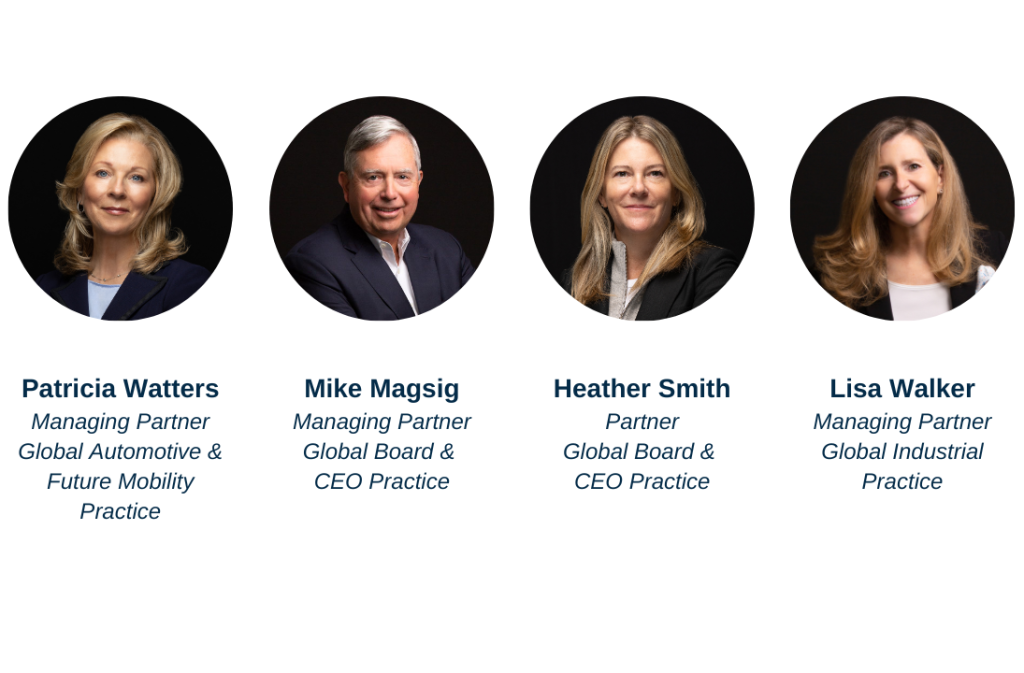 Date & Time
Tuesday, September 12, 2023
Tuesday, September 12, 2023 from 7:30 AM to 10:30 AM EDT
Breakfast to be served at 7:30 AM
Program begins at 8 AM
For more information, please email Patricia Watters.
Meet Our Speaker, Dan Ninivaggi
Daniel A. Ninivaggi is an accomplished American automobile executive with extensive experience in the automotive and transportation industries. He has held significant leadership positions in prominent companies and has made a substantial impact on the automotive and transportation sectors.
Dan currently holds the position of Executive Chairman at Lordstown Motors, an electric vehicle manufacturer. He previously served as the company's CEO. Additionally, he is the Chairman of the Board at Garrett Motion, a leading global technology company industry and the largest supplier of automotive and commercial vehicle turbocharges and e-boosting technologies globally. Prior to his roles at Lordstown Motors and Garrett Motion, Dan held various executive positions, including CEO of Icahn Enterprises, the principal investment vehicle of Carl Icahn, and Co-Chairman, Co-CEO of Federal-Mogul Corp. prior to its acquisition by Tenneco.
Dan's educational background includes a Bachelor of Arts degree in History from Columbia University, an MBA from the University of Chicago Booth School of Business and a J.D. from Stanford Law School.
Dan's expertise spans various areas of the automotive industry, including automotive aftermarket service networks, parts distribution, Tier 1 components and systems, and electric vehicle manufacturing. Dan's contributions have been instrumental in driving growth, profitability, and operational excellence in the organizations he has been a part of. His strong leadership and insightful decision-making have played a vital role in shaping the success of these companies and positioning them for long-term sustainability.
He began his automotive journey initially as outside legal counsel and then an executive at Lear Corporation, where he rose to the position of Executive Vice President, responsible for various corporate functions, including corporate development and strategy. During his time at Lear, Dan led the spin-off of the company's global interior components business to International Automotive Components (IAC), an affiliate of WL Ross. Dan also served on the board of directors of IAC following the spin-off.
Notably, Dan became a key figure in Carl Icahn's organization, with whom he worked closely during his tenure at Icahn Enterprises. He held various positions within the company, including CEO, President, and a member of the board. He also served on the board of directors of numerous public companies, including Navistar International, Motorola Mobility, American Railcar Industries, CVR Energy and The Hertz Corporation, where he played a vital role in overseeing the successful restructuring of the company during its bankruptcy. Dan also served as Interim President and CEO of Tropicana Entertainment, a national casino and hotel operator, while with Icahn Enterprises.
With his broad management background in various sectors and extensive boardroom experience, Dan brings a wealth of knowledge and expertise to his current and previous roles. He is known for his strategic leadership and has been recognized for his deep knowledge of the transportation industry.