In honor of Hispanic Heritage Month, DHR is recognizing and celebrating the achievements and contributions of Hispanic and Latinx champions who have inspired others to achieve success.
We sat down with Jose Cervantes, Contracts & Billing Coordinator, and John Staines, Partner, to learn about their professional and personal insights.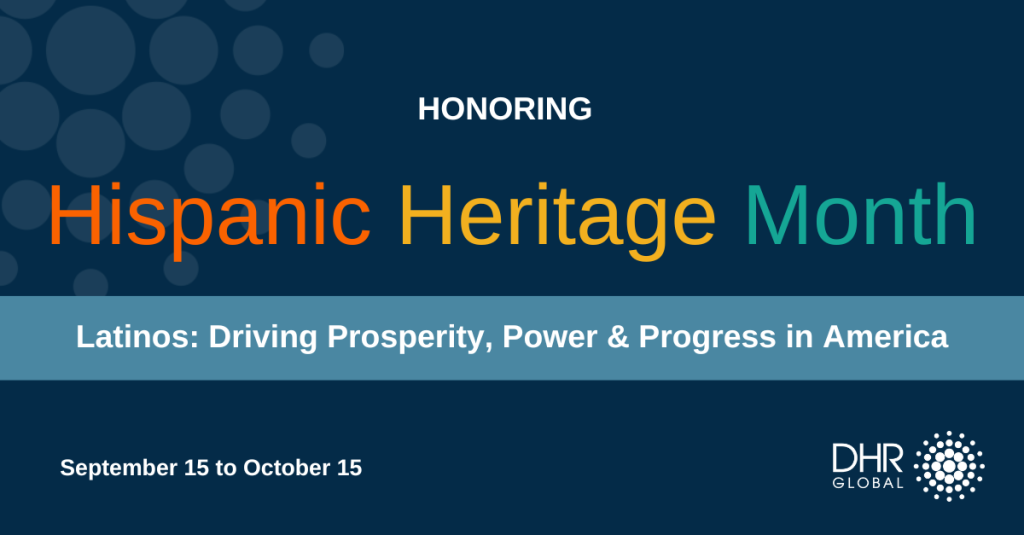 Q: What does Hispanic Heritage Month mean to you, and how has your heritage shaped who you are today?
Jose: I am grateful that a spotlight is placed on such an important group of people in this country. I have seen the growth in society from the time I was a child to now and I feel Hispanic culture has been integrated into so many aspects of this country such as cuisine, fashion and even music. My Hispanic heritage, specifically my Mexican heritage, has shaped my whole life. I still carry most of the traditions and customs that my family has passed down to me and that I will hopefully continue to pass down to future generations.
John: To me, Hispanic Heritage Month means a celebration of the multicultural differences that make this country so rich in talent. Every Hispanic country has a unique culture, and HHM allows us to celebrate that uniqueness. I grew up in a multicultural family, my Mom is from Peru and my dad is from the UK. I grew up learning and valuing the difference in people. As an HR leader for 30+ leaders, allowed me to minimize bias when attracting, selecting, promoting, and motivating talent. I have carried that forward to my work in Executive Search.
Q: What advice (personal or professional) would you give others of Hispanic/Latinx heritage?
Jose: Seek out all you can about your customs and traditions by asking your parents or grandparents questions, researching the customs of where you're from, and visiting the countries/cities where your family members are from. Try and keep that culture alive in your generation and the generations to come. On a professional level, you should always be yourself – never be ashamed to let your peers know where you come from.
John: Be proud of who you are, and your background. Work doubly hard, demonstrate the value you bring to the organization, and make sure you speak up. You see, in our culture, we are very respectful of authority and most Hispanics only speak if asked a question or asked to make a comment. We need to understand that in the American corporate culture, you need to sell your capabilities and accomplishments. You must do it respectfully and with humility and be authentic. I would submit that this is the single factor that limits Hispanic career progression.
Q: How do you plan on celebrating this year's Hispanic Heritage Month?
Jose: My family had a get-together for Mexican Independence Day, which we usually do every year. We eat plenty of food and play games. The rest of the month, I try to indulge in as many facts as I can about other Hispanic cultures to see the similarities or differences from mine.
John: I am involved in coaching and mentoring Hispanic leaders, and do it all year round. HHM is a time to highlight the economic value that the Hispanic community brings to the corporate world. Hispanics are loyal and hardworking; let's celebrate us and the value we create every day.