Future Ready Healthcare Leaders: Part 1 – The Return Stage
There's a new B.C.: Before COVID. That means A.C., After COVID, is on the horizon. We still have so many questions: What will the world of Healthcare look like? What new skills will be required to react to public health needs and drive system growth? How will that shape the healthcare organization of the future and its talent needs?
Anticipating Healthcare leadership needs as we continue to evolve from COVID-19 is hard to predict, but our Healthcare Practice team envisions several possibilities, aligning current assignment data with insights from recent publications. McKinsey & Company's article From "wartime" to "peacetime": Five Stages for Healthcare Institutions in the Battle Against COVID-19 was particularly insightful for the depth of its analysis and ideas for action. Each stage is can be summarized in one word: Resolve, Resilience, Return, Reimagination and Reform (1).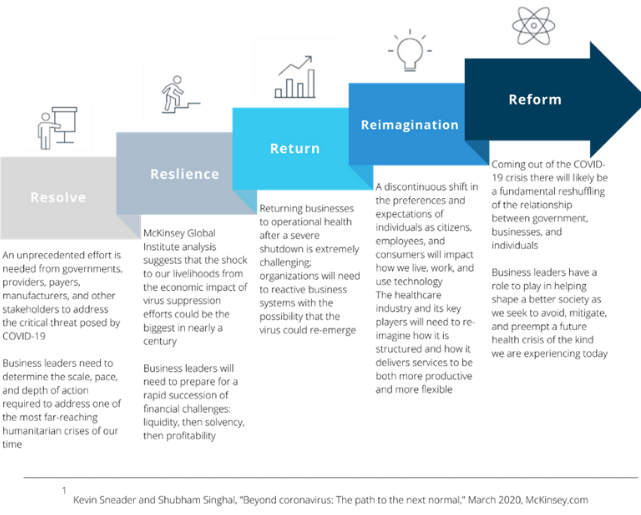 In the first two stages, Resolve and Resilience, system leaders evaluate the unfolding situation and develop plans for handling the incoming patient load, while evaluating the financial impact of the changes in volume, services mix, and payor mix. The outcome of these two stages is establishing operational and financial resilience as a strong base for recovery. We anticipate most systems have completed these first two stages and are moving into the Return stage as elective procedures and other non-critical care restart. Balancing response to COVID-19 cases with other health treatment needs is the primary objective in the Return stage.
In the Return stage, decisive action will be required. In the table below, five Organizational Elements are detailed with key steps and important operational roles to consider. Together, these strengthen the organization and ensure successful execution.
Return stage: Scaling Balanced Operations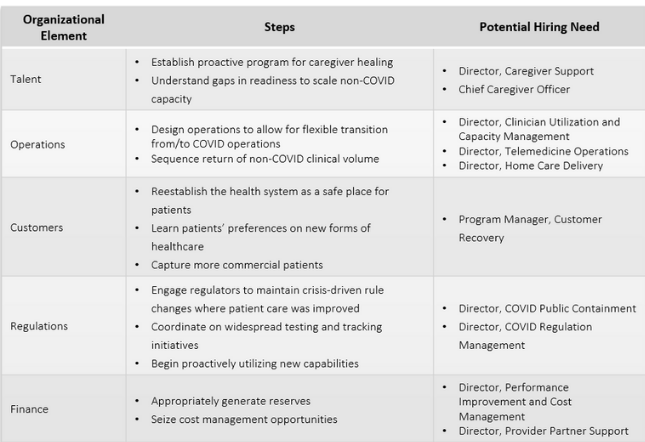 Focus on Talent
One of the first challenges a system faces restarting other forms of care is helping caregivers rebalance their professional and personal lives. Caregivers have responded to the unknowns of this crisis with extraordinary commitments of time while also facing physical risks to their own health. They have seen and experienced trauma and need support to manage their own mental and physical well being before pivoting to a new normal.  Establishing responsibility in a Director of Caregiver Support with access to vital resources could address these needs, ensure delivery of care, while improving teamwork and productivity. In our current environment with physicians and clinical staff in short supply, such support will also help reduce staff and physician turnover. Ideal candidates will demonstrate great empathy while coordinating solutions for each individual. Management experience in the social services sector would be one potential source.
Longer-term, a Chief Caregiver Officer is worth considering to manage the overall development of this mission critical clinical workforce. A few systems have experimented with a Chief Wellness Officer to address physician burnout issues, but all clinicians are impacted by chronic stress compounded by acute stress from the COVID pandemic. Coupling support needs with career development opportunities, a Chief Caregiver Officer could maximize an organization's capabilities to provide care within the constraints of its current workforce. The Cleveland Clinic just appointed its first Chief Caregiver Officer to align caregiver engagement with its team-based culture.
With telemedicine's rapid growth, a Director of Telemedicine Operations may be required to manage and coordinate internal operations while overseeing a buildup of internal capabilities to balance or supplant external provider operations.

Balancing Operations
As hospitals have evolved into multi-hospital health systems with extensive clinical activities in ambulatory care, post-acute care, and home care, staffing problems at all levels and locations have become more complicated.  During the early stages of the COVID crisis, many organizations furloughed clinical and administrative staff to protect capacity for expected COVID patients. How much of this staff could have been utilized in other care settings, but the information to make the optimal choices was not available?
Operationally, physician and clinical staff deployment could be overseen across the system to ensure care can be provided where demand exists while utilizing everyone at the top of their license. Operations research tools vested in a Director or Vice President of Clinician Utilization and Capacity Management could add value by increasing delivery capacity and productivity. Large management consulting and IT service firms have developed solutions to similar problems in order to ensure ideal teams are constructed for major development projects. These require large teams, specialized expertise, and complex timing for each team member's entry and exit from the project while also maximizing utilization across multiple engagements. Leveraging this knowledge within Healthcare delivery operations would maximize care capacity, reduce costs, and improve operating margins. 
The rapid adoption of telemedicine by providers and payers to protect patient health while enabling diagnosis and care has shown that the industry can adapt quickly when needed. Home delivery of care is also growing and is expected to expand. Prior to COVID, these activities were often provided by third party organizations, but growing volume will require more coordination and integration with internal operations.  Higher volumes could also warrant insourcing of some third-party operations. A Director of Telemedicine Operations or Director of Home Care Operations would be ideally suited for individuals with a logistics background or from within supply chain hub operations, for example, from a major shipping corporation or airline. 
Create Customer Confidence
With caregivers revitalized and operations balanced, patients need encouragement to return for care. Providers should create a multi-faceted campaign to instill patients' confidence and entice them to return to address their unmet health needs. The campaign must first restore credibility in the provider's safety. Second, it must establish expectations that, whether in person or via video, the new patient experience will be patient-centered, safe, and executed with a high level of professionalism. Third, it must educate patients of the dangers of delaying needed care and encouraging them to act. With such a focused mission, a Program Manager, Customer Recovery working within the Marketing organization could drive such a campaign. Someone with skills of a political campaign manager could be ideal in this capacity with the ability to fashion broad values and mission into cogent campaign tactics that instead of "getting the vote out" will "get patients reengaged." 
Providers must create a multi-faceted campaign to instill confidence in patients to entice them to return. It will need to establish expectations and educate patients of the dangers of delaying needed care and encouraging them to act.


Regulation Requirements
With public health resources also stretched thin from the pandemic's impact, providers will need to help contain the virus' spread with testing and contact tracing capabilities coordinated with other providers and authorities.  A Director, COVID Containment is another program manager role that would bring value by minimizing demand on system capacity, disruptions to other care, and system financial losses. Additionally, the Director would interface with public officials, other health systems, and the public to provide guidance and recommended actions to minimize outbreaks. Ideal candidates would have experience analyzing disease patterns in broader populations and could come from public health, health plans and possibly nonprofit organizations that focus on managing specific diseases, particularly infectious diseases. Past experience tracing influenza outbreaks would be ideal.
Many government regulations were temporarily changed to facilitate rapid response to the pandemic, both at the state and federal level. In particular, the Center for Medicare and Medicaid Services (CMS) facilitated the rapid growth of telemedicine through its pricing regulations. Health systems and payers should both work to keep those regulations that are effective in improving care and reducing costs. With many temporary regulations active, providers and payers should create a Director, COVID Regulation Management to work with regulators and lobby for which ones to keep or abandon. 
Revitalizing Finance
Within Finance, effective revenue cycle management will be critical to keep cash flowing and operations cost management will be essential to not waste any dollar. Revitalizing performance improvement initiatives will help improve operating margins devastated during the crisis' response. Many of these initiatives focus on clinical improvements, but in today's challenging environment, all parts of an organization should be scrutinized for cost savings in addition to improvements in patient flow and care capacity. Establishing a Program Management Office under the guidance of a skilled PMO Leader could be important to examine every opportunity for savings. 
Another program management role to consider is a Director, Provider Partner Support. Independent primary care physicians have been devastated financially in this crisis and advance payment initiatives from CMS are ending shortly, increasing the danger that practices could fold or be bought by a competing system. Providing support to them, possibly through partnership with the payer community, to develop short-term cash flow solutions could improve stability in your regional ecosystem and minimize loss of competitive position to other providers.
What Comes Next
The length of the Return stage is hard to discern at this writing given the increasing case loads being experienced in the US in July and August 2020. The journey could be difficult, but hopefully, not the disruption experienced in March. As solutions are implemented to manage operational and execution issues, more opportunities will be found to improve care in the long-term.
In Part 2 of this paper, we will discuss the Reimagination and Reform stages and what talent will be required to institutionalize the changes our After-COVID world will require. As organizations address these challenges, DHR is here to help define the leadership direction needed and find the next Future Ready leader.
The DHR Healthcare Services & Solutions team is responding to the ever-changing healthcare landscape through our healthcare services and solutions specialty segments.
Clients trust our insight on all facets of organizational leadership – from the initial creation of a position to reporting structures, core competencies and compensation.
We are respected for our consulting expertise in providing real-time market intelligence as well as generating greater corporate self-awareness of leadership gaps and strengths to help our clients make informed decisions related to the alignment, assessment, and acquisition of leadership talent.