The demand for superior Chief Information Officers in private equity backed organizations has increased in recent years due to the need for strong technical leadership to help drive value creation and transformation. Management teams and fund partners view CIOs as an integral part of their C-suites today and are recruiting these strategic executives at a rapid pace, even within their smaller organizations.
Partnering with CFOs in particular, CIOs provide valuable input across organizations' strategic planning process, mergers and acquisitions (M&A) strategy, commercial strategy and operations planning processes, to name just a few areas of influence. Their role has clearly evolved in recent years, and successful hires have dictated much higher returns for private equity owners.
Based on our experience working with technology and private equity leaders, we've outlined the key skills that CIOs need to be successful in the current business climate. We've also connected with DHR's Private Equity Practice Group experts, Keith Giarman and Steve Godwin, for their input on the value of the private equity CIO.
Value Creation
Historically, value creation in a portfolio company has been driven by strong CEOs and CFOs with complementary skills in their leadership teams across sales and operations. In today's world, a private equity CIO must be savvier than ever, not only in terms of leading an information technology organization, but in terms of aligning with business goals. The CIO must understand a variety of strategies from M&A to enabling commercial organization, through rationalization and cost control around a business. When it comes to M&A, it is especially important for a CIO to understand the due diligence process when considering the application landscape, and even more importantly, the effective and efficient integration of acquired companies. CIOs are making decisions that not only affect the current state of the organization, but the future valuation of a potential buyer. Operating Partners and CEOs are looking for CIOs who know when and where to invest (but also when not to invest) in IT, based on the future value they are looking to create.
In today's world, a private equity CIO must be savvier than ever, not only in terms of leading an information technology organization, but in terms of aligning with business goals. CIOs are making decisions that not only affect the current state of the organization, but its future valuation.
Transformation
Transformation in portfolio companies comes in many forms. A Chief Information Officer may be asked to be a part of a roll-up strategy, a digital transformation, or even driving centralization of IT and business assets from a previous owner. Due to companies being transacted in this space every four to six years, there is a need to understand technical debt and what transformational efforts are priorities that will impact the business during the next hold period. A CIO will need to work as an effective business partner with a strategic-thinking CFO who may be optimizing or upgrading IT infrastructure to enable the FP&A function to acquire data to analyze the business. This may be for product line profitability, customer profitability, margin analysis or inventory management tied to working capital. We see data and analytics at the forefront of many private equity sponsored transformation efforts. This includes digitizing business functions through systems to bridge the gap between commercial organizations (customer acquisition) and operations organizations (supply chain visibility and access). Having experience digitizing a business and making data readily available to the business is a critical skill set for CIOs in the private equity environment.
At the Fund Level
We are also seeing an increase in CIOs being recruited into the private equity funds themselves as advisors and operating executives. This trend has increased due to the need for smart, technical business executives to evaluate potential acquisitions of IT organizations, understand the challenges they may face during their holding period and help to increase value within the IT organization. These leaders tend to have broad exposure to a variety of industries and multiple turns as a CIO to be prepared for any situation they may face within the portfolio.
Keith Giarman says, "The role of the CIO in PE-funded companies has become more critical. This is particularly true in mid-market companies professionalizing their operations where the CEO, and especially the CFO, are chartered with driving cost efficiencies in production and customer acquisition, margin expansion with an eye on costs tied to pricing, better supply chain visibility while managing working capital and other areas."
Types of CIOs
We see different private equity backed holding companies needing a variety of different skills from search-to-search based on the situation they are in. Some require deep ERP expertise to fix a failed implementation, while others may be looking for a CIO with proven M&A or divesture expertise. When searching for a CIO, it is important that there is a common strategy and key selection criteria to measure the type of skills needed.
"Successful CIOs at private equity backed organizations operate strategically yet are hands-on, acting as more of a 'do-er' than a delegator," says Steve Godwin. "They are driven to add value with a laser focus on results. Not only that, but they must be skilled communicators—they must be able to justify the investments they make in technology and ensure that the CEO and board understand the impact."
There is generally a need for a CIO to have past private equity expertise due to the uniqueness of environment in which they will need to run their organization to achieve the overall exit strategy. We see stand out CIOs having skills that help them excel at strategic focus along with the execution mindset to achieve their goals as it aligns to the business. As an event or exit happens, a CIO cannot have projects uncompleted and leave question marks for potential buyers, but rather needs to be able to articulate the ROI of their strategy and have the IT organization solidified as a true business partner with quantifiable results.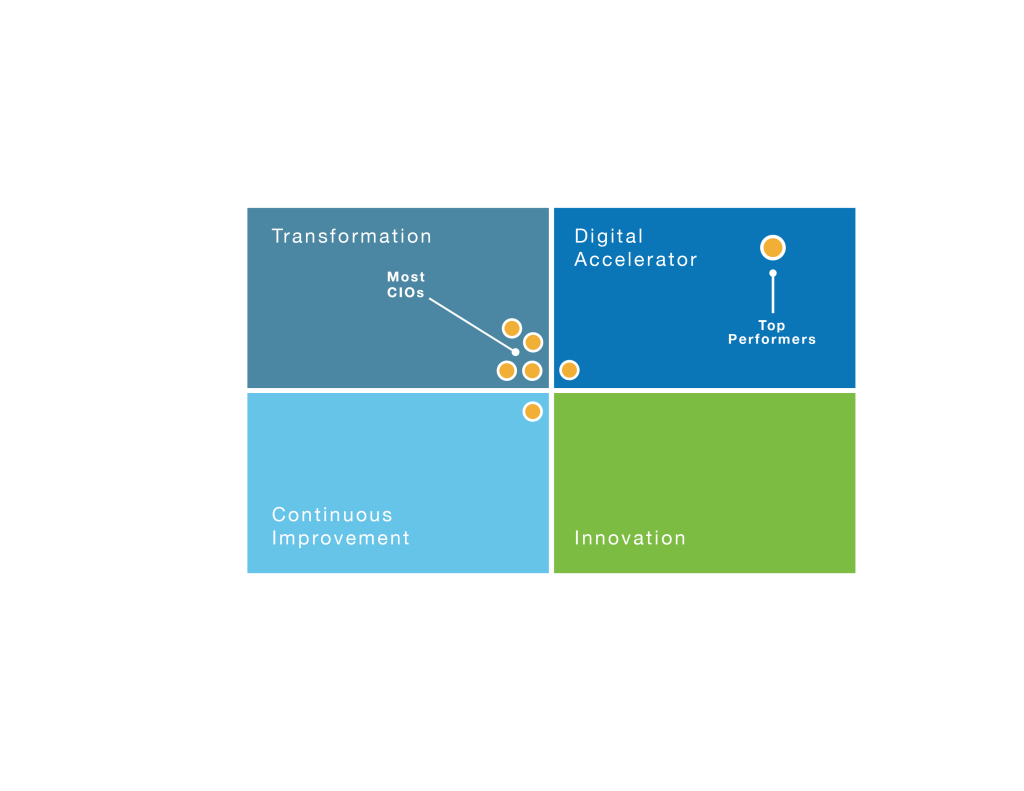 How Top-Performing CIOs Stand Out
• Strong EQ and IQ: balanced with an execution orientation
• Builds a tight team and creates followership based on culture
• Can balance transformation and innovation to digitize the business
• Focuses on high value initiatives and can articulate ROI for the business
• Thinks like a business leader and maps technical agenda to the business
• Operates with extreme customer focus and data driven mindset
Conclusion
To be successful as a technology leader in most organizations, there must be strong technical and leadership skills combined with business acumen. In private equity backed portfolio companies, a successful CIO must be aligned with the company strategy and how technology can create value. Value comes in many forms from a hold and steady Year-Over-Year growth mission to rolling up multiple organizations through M&A. Operating Partners and CEOs need to look for Chief Information Officers who are aligned with their specific strategy and include them in that strategy to yield success.
Meet the Authors
Ted serves as a Principal within the Global Advanced Technology and CIO/CTO Practices specializing in digital, information technology, engineering, product, data, and security functions across all practices. He also has an industry focus in enterprise software, fintech, private equity, healthcare software & technology, and industrial IOT across multiple functions.
Sal DiFranco
Managing Partner
Sal serves as Managing Partner of the Global Advanced Technology and CIO/CTO Practices specializing in cloud, digital transformation, IoT, data & analytics and software & applications including SaaS. He specializes in C-level technology searches across all practices, with a focus on industrial technology, fintech, healthcare IT, consumer & retail and professional services.