Despite macroeconomic concerns, last year remained busy for the executive search industry. Now, however, concerns are growing about the economy. In a new report, DHR Global shares insights from its Women@DHR group about how its varied sectors are faring—and will fare—as the new year unfolds.
As executive recruiters, we're always asked what we see in the labor market. Right now, we see a lot.
In late 2022, DHR Global's resource group for women partners – called Women@DHR – met and discussed their thoughts on how the current economic environment is affecting executive search, emerging leader search and leadership consulting, with an eye on what challenges and opportunities might lie ahead. Founded and led by Jeanne Branthover, the mission of the group is to help each other and benefit from one another and grow personally and professionally.
From inflationary pressure on the economy to a fundamental shift in the way people work, all with continued uncertainty, hiring trends have been a hot topic of discussion and the situation varies widely by industry.
To set the stage, many of the companies we work with vowed not to lay off workers during the pandemic. During the turbulent times of 2020 and 2021, companies were encouraged to keep employees with incentives like Paycheck Protection Program loans. Some industries, such as airlines and hospitality, had major setbacks, while other industries, including gaming, technology, home delivery, online services and pharmaceuticals saw continued growth.
In 2022, many sectors surged back, despite supply chain issues, worker shortages, a down financial market, increased inflation to 20-year watermarks and global conflict. The battle for talent was and is real, with not enough candidates for the open positions during the strong market and low unemployment.
As a result, we've been quite busy all year helping companies find talent. Yet, many started to question the market and worry about a recession as the media began to report "big layoffs" of hundreds of workers at large companies. When Lindsay Landsberg, partner at DHR Global, posted a survey on LinkedIn, 32% of the 300-plus respondents said they were hunkering down for a recession, while 36% thought a possible recession could be brief and mild. 19% said they would take a wait-and-see approach and 13% were optimistic and expecting growth. The majority of respondents didn't fear that a severe recession would occur.
From a recent survey of 300+ respondents:
32% said they were hunkering down for a recession
36% thought a possible recession could be brief and mild
19% said they would take a wait-and-see approach
13% were optimistic and expecting growth
In tune with the survey results, the Global DHR Women group isn't seeing a notable slowdown among DHR clients. Companies hired during the strong market of the pandemic and overhired as markets stabilized. Now, they may be alleviating the overhiring by laying off lower performers.
Here's what the women of DHR are saying about their sectors: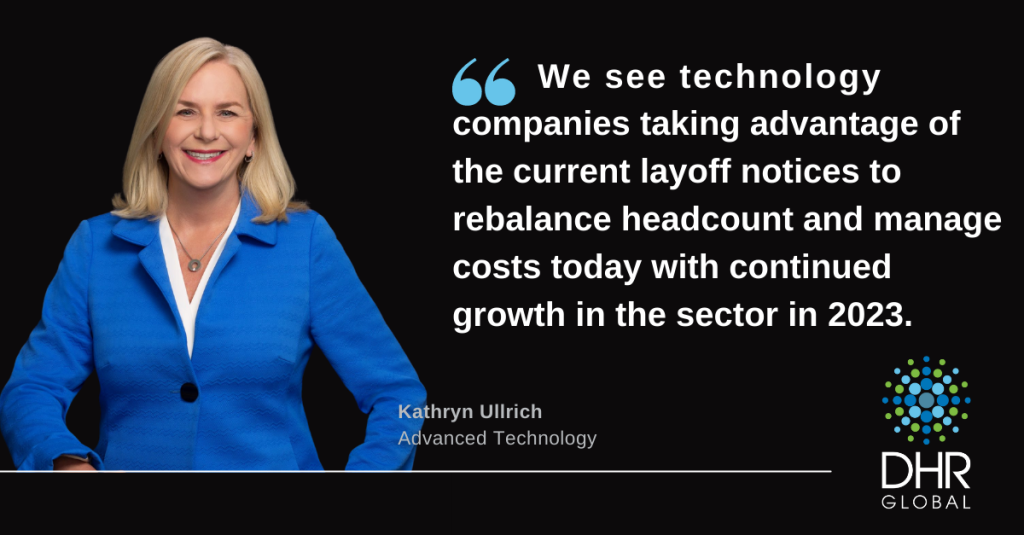 Many companies are announcing layoffs, perhaps to right size after hypergrowth and limited layoffs during the pandemic. In general, the technology industry has experienced incredible growth since 2020. As measured by Invesco QQQ, the market more than doubled at the peak at the end of 2021 and is still up more than 33% since the beginning of 2020 and 66% since the low in March 2022.
What do the layoffs mean? Meta announced a 13% cut in employment following softer revenue. Apple's privacy changes are largely driving the layoffs, making it difficult for advertisers to target consumers, and driving advertising revenue to China's TikTok, which has bypassed these privacy concerns. Oracle has been announcing small layoffs as it trims $1 billion in costs after its high-priced $28 billion acquisition of Cerner, an electronic health records company. Cisco announced better-than-expected results and a 5% rebalance of employee headcount. We see technology companies taking advantage of the current layoff notices to rebalance headcount and manage costs today with continued growth in the sector in 2023.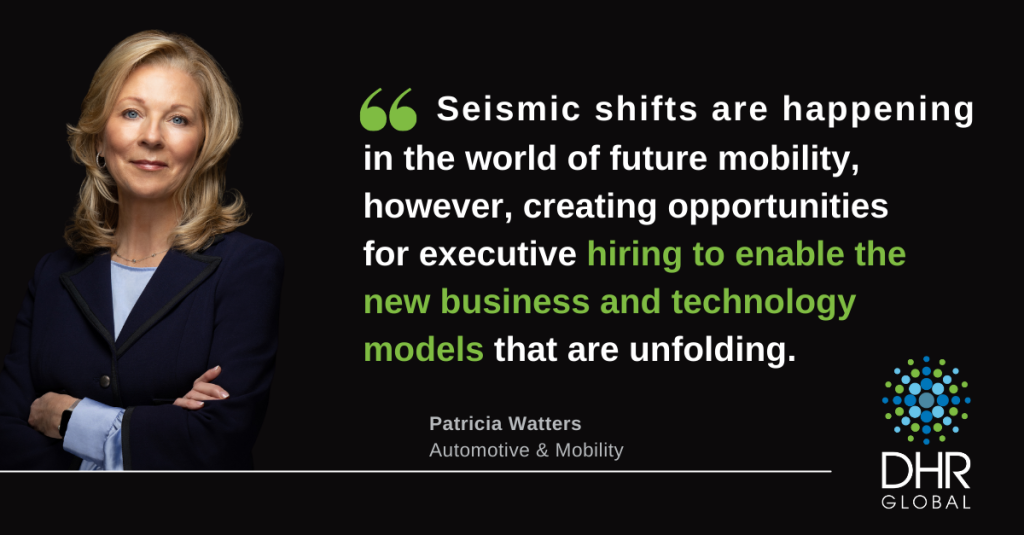 Traditionally, automotive manufacturing is always one of the first bellwethers of an economic slowdown, and it's been that way in Detroit for several months now. Seismic shifts are happening in the world of future mobility, however, creating opportunities for executive hiring to enable the new business and technology models that are unfolding. We remain focused on traditional and future mobility, although the normal flow of automotive searches has slowed, as we saw during past recessions.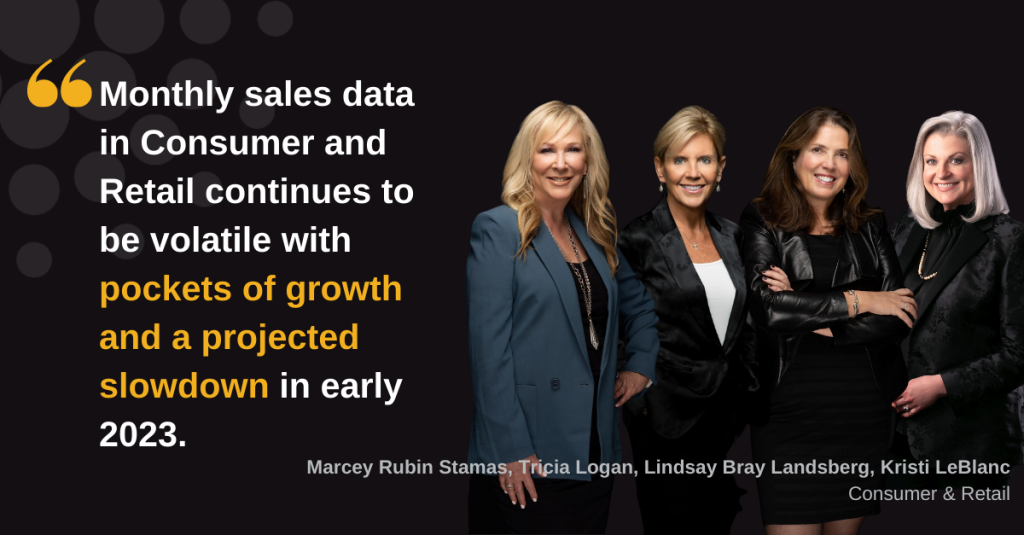 In a time of a projected recession, higher prices, rising inflation and continued interest rate hikes, the Consumer and Retail sector hiring is mixed. Consumer spending in Hospitality this holiday season is strong within travel as the consumer takes their COVID-19 postponed trips. Restaurants are back to full capacity but struggling with margin pressures and shopping at brick-and-mortar stores that have survived the Pandemic have returned to pre-pandemic levels but lack the same inventory levels. The growth of e-commerce during the pandemic has leveled off, but a seamless customer experience across all channels is expected including mobile commerce, and omni-channel shopping has become the norm.
The supply chain issues that dominated 2021 and 2022 have slightly lessened but the geopolitical unrest has increased regionalization efforts that even the most sophisticated Supply Chain organizations struggle to address. Consumer Brands are additionally dealing with soaring inventory levels and increased cost of goods, which is creating an opportunistic environment for the Off-Price Retailers such as Ross, and TJX, and the Dollar Store channel, particularly as it relates to apparel with sales declining at furniture, electronics, home and garden, a reflection in the sharp decline in home sales due to increased interest rates.
Decision-makers within DHR Consumer and Retail clients are cautious in their hiring decisions as they assess the 2022 holiday season. Monthly sales data in Consumer and Retail continues to be volatile with pockets of growth and a projected slowdown in early 2023. We hope this is short-lived and has created an unpredictable, hard to anticipate environment for Consumer and Retail.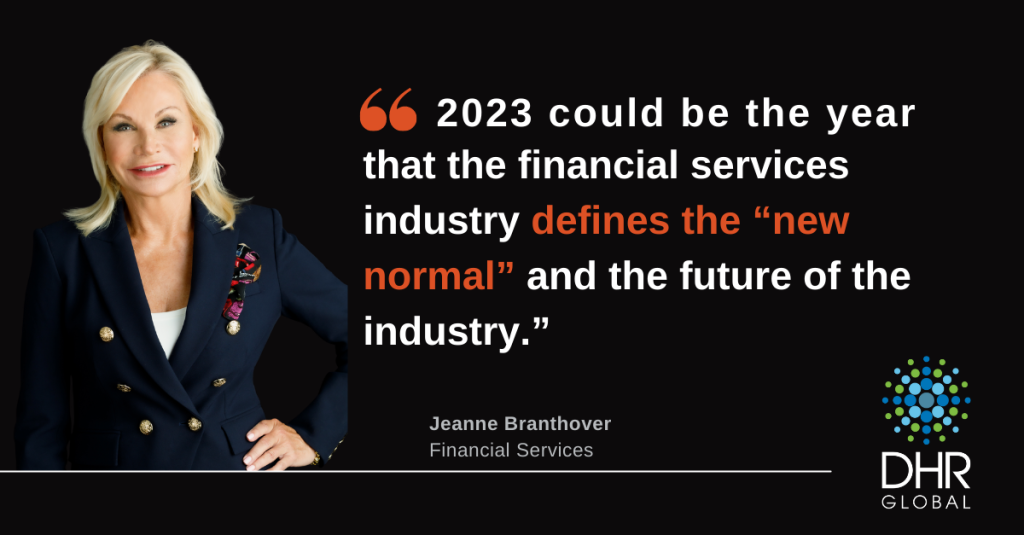 Through the pandemic, financial services have shown the ability to navigate historic levels of uncertainty successfully. All sectors, including investment management, insurance, banking and capital markets, demonstrated their ability for resiliency, adaptability and empathy in a remote environment.
Through the pandemic, financial services have shown the ability to navigate historic levels of uncertainty successfully. All sectors, including investment management, insurance, banking and capital markets, demonstrated their ability for resiliency, adaptability and empathy in a remote environment.
2023 will continue to be a year of uncertainty with global and domestic challenges, but savvy financial services leaders can continue to seize opportunities. Some firms will cut costs, but many others will develop strategies that focus on talent, technology, risk, regulation and exceptional customer service. 2023 could be the year that the financial services industry defines the "new normal" and the future of the industry.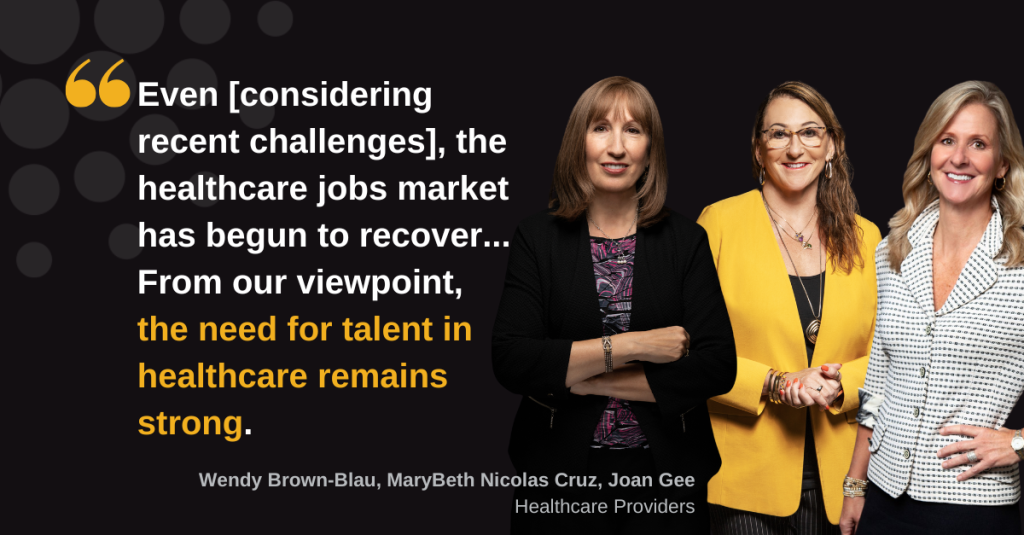 The healthcare sector had serious strains during and after the pandemic, with increasing costs because of inflation, nursing and other workforce shortages, salary escalation, and impending workforce strikes. Reduced revenue streams are adding to healthcare system losses in 2022.
In response to these losses, some healthcare providers have had to institute temporary hiring freezes on non-essential positions to control costs. As well, some health systems have looked at downgrading leadership positions to cut high-cost, nonessential employees. To implement this, organizations are spreading these employees' responsibilities among other C-suite leaders or changing the criteria for positions.
Even so, the healthcare jobs market has begun to recover with employment down only 0.5% since February 2020, according to the Bureau of Labor Statistics. From our viewpoint, the need for talent in healthcare remains strong.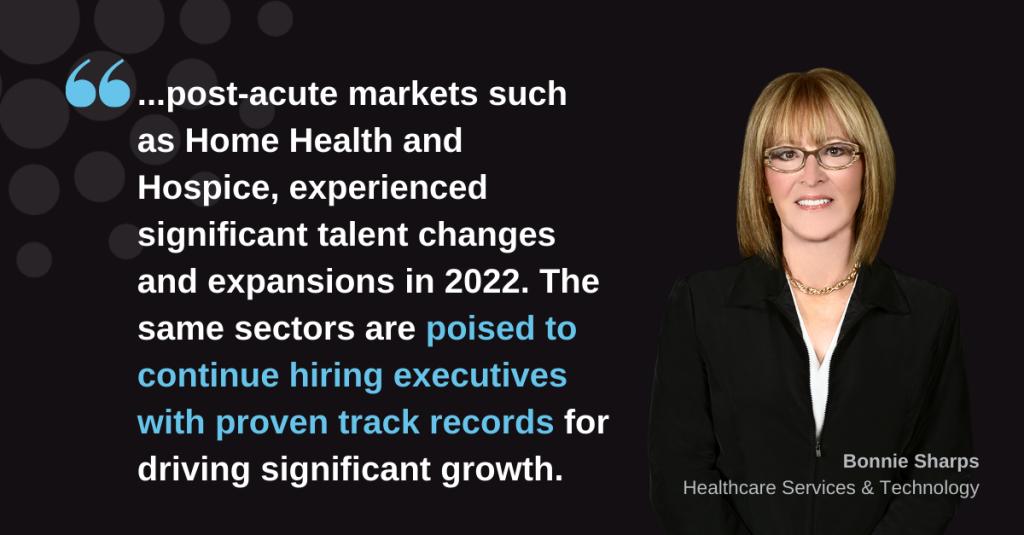 DHR Global's Healthcare Technology and Services practice had an active and successful year in 2022 and anticipates the same in 2023. Some of the key areas of growth have been focused on companies providing data analytics and revenue cycle solutions which are providing immediate cost solutions for health systems and physician practices. DHR Global has assisted these companies by adding talent across the executive teams, with a focus on CEOs, operation leaders, finance and business development.
Healthcare service companies, focused on the post-acute markets such as Home Health and Hospice, experienced significant talent changes and expansions in 2022. The same sectors are poised to continue hiring executives with proven track records for driving significant growth.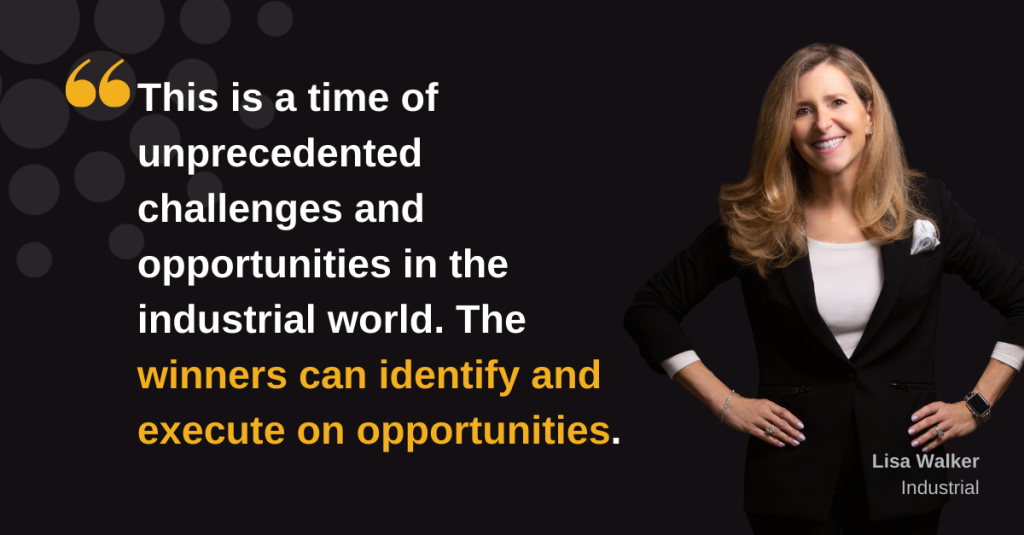 Enormous crosscurrents are occurring within the industrial sector: energy, agriculture and other inflationary pressures; baby boomers retiring, with a smaller cohort of talent right behind them; supply-chain disruptions and responses; new competitive pressures from incumbents and new entrants; and updated or all-new business models to address each of these inputs. This is a time of unprecedented challenges and opportunities in the industrial world. The winners can identify and execute on opportunities.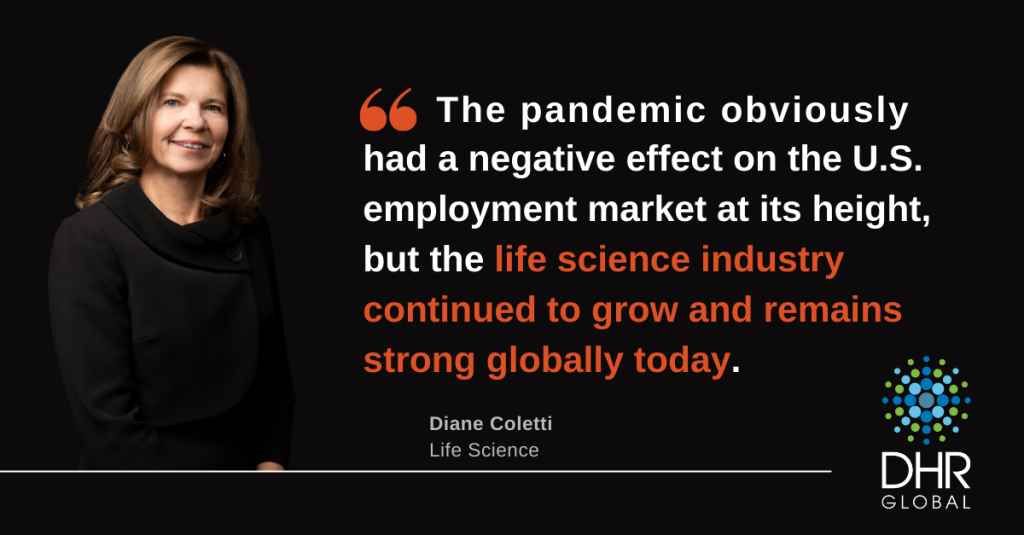 The pandemic obviously had a negative effect on the U.S. employment market at its height, but the life science industry continued to grow and remains strong globally today.
Life science experienced significant transformation in organizational planning and talent alignment for several years pre-pandemic. Advances in oncology, immunology, mental health and neuroscience have long contributed to the sector's success. The pandemic then led to additional career opportunities to address the public health crisis.
The market for executive talent in the nonprofit sector remains tight. In the first year of the pandemic, we saw CEOs reassessing the strengths of their internal teams and a subsequent flood of inquiries for leaders with heightened financial and management skills. As pandemic conditions evolved, the interest in management acumen continued, but we felt a shift toward growth, with a noticeable increase in demand for leaders who have fundraising capabilities. Facing increased demand for services, and with many buoyed by donations from billionaire philanthropist MacKenzie Scott, nonprofits have been hiring executive talent like never before. Demand hasn't slowed.
Funds investing in sustainable infrastructure, energy transition and net zero/carbon neutral assets have been a relevant alternative asset class for several years. However, over the last few years, the sector has grown exponentially due to a collective global push to reduce the impact of climate change.
Adding the war in Ukraine and the passage of the Inflation Reduction Act (IRA) and the Infrastructure Investment and Jobs Act (IIJA) in the US, could lead to an investment boom. This means the hiring of principal investment professionals (equity and debt), asset class specialist fundraisers and investor relations professionals, asset managers, ESG experts and operating partners for portfolio companies, has been frenetic – especially across the US and Europe.
Even with the recent decrease in deal flow, fundraising has remained robust, and so there are sizeable amounts of dry powder looking for homes. This mix can cause finds to explore additional asset types, risk-return profiles, geographies, etc., which leads to a need for more people. The overall takeaway is the sector will remain strong for the foreseeable future.
What's Ahead
While all sectors are facing challenges, we see leaders taking advantage of the uncertainty to bring about innovation and growth. Across the board, we welcome conversations with organizations and leaders who want to find winning talent, excel in the present and build for the future. Learn more about putting DHR's reach, resourcefulness and relationships to work for your talent search.